Lyme Defenses Back Out Drops - Canine & Family-Friendly [30Ml]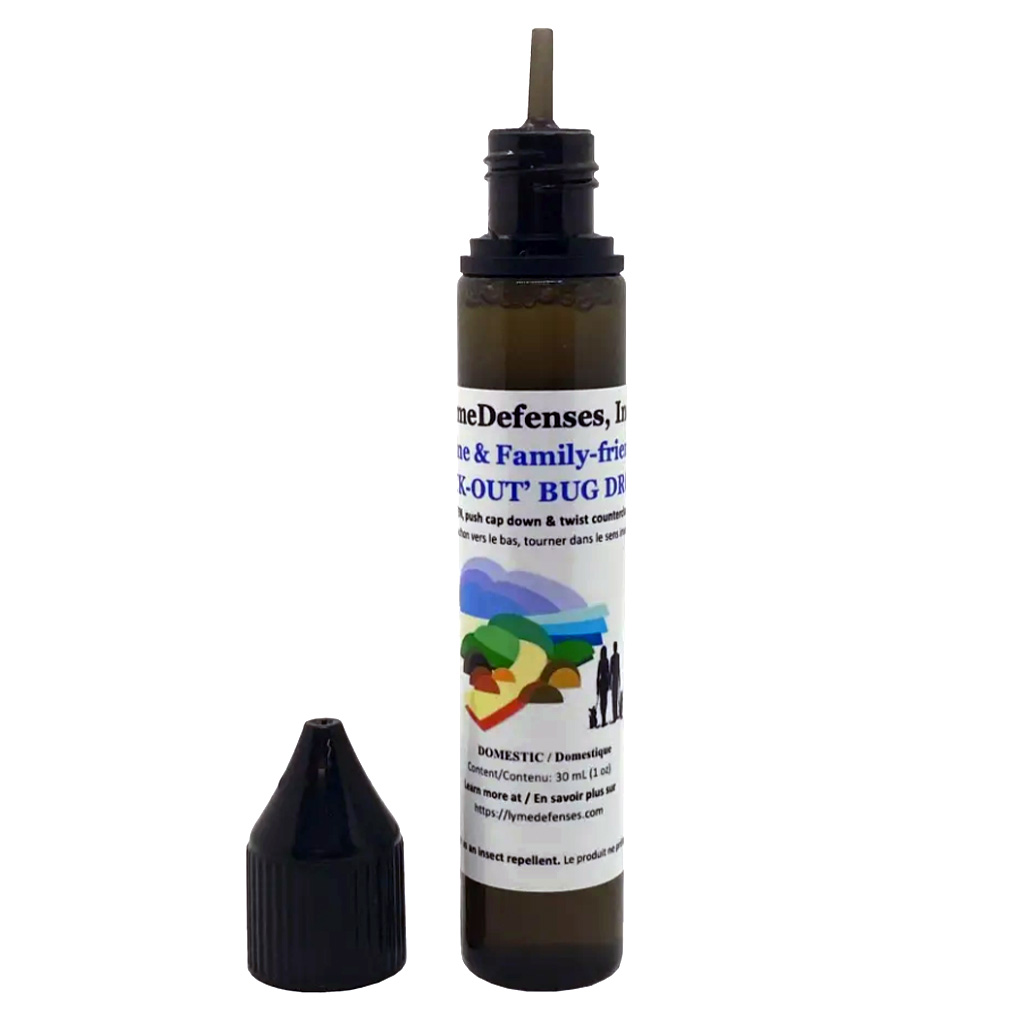 LYME DEFENSE
Lyme Defenses Back Out Drops - Canine & Family-Friendly [30Ml]
Refreshing 'no-rinse' fragrance drops suitable as an odor neutralizer, surface revitalizer and mood booster having moisturizing and antibacterial properties.
Provides a method of 'hands-free' removal of crawling or embedded ticks in an 'eco-friendly, no-rinse formula' that is safe for use on BOTH people and dogs.
Primary ingredients provide a moisturizing, soothing base with a vibrant, clean, citrus aroma. The surfactant base ingredient is pH balanced to better adhere drops to skin, hair/fur for longer fragrance effectiveness.
The emulsifiers/carrier solutions are used distribute essential oils throughout the entire solution with each drop. Our 'No-rinse' formula is safe for direct use on skin, fur, clothing, or any surface treatment.
Product is used with confidence that it will not harm your person, your dog or the environment and that it complies with Health Canada Directives for leave-on body/skin treatments. Product is 'Lick-Safe' having calculated safe daily oral intake rates based on body weight for actively grooming dogs.
Use plant-based essential oils that have been enjoyed for centuries by our Aboriginal peoples to 'bug BUGS'! 100% Insecticide-FREE (contains no DEET, Permethrin or Picaridin). Not recommended for use on cats as they don't have the liver enzyme needed to break down certain essential oils.
Disclaimer: 
LymeDefenses, Inc. 'Canine & Family-friendly' Outdoor Body Treatment Products are not registered as insecticide repellents; therefore, we do not support claims to that effect.
Due to the risks associated with incurable diseases transmitted by some ticks, mosquitoes and fleas, we recommend that you follow the precautionary tips noted by the Center for Disease Control or Health Canada guidelines to help keep you and your canine companion tick-, mosquito- and flea-free. 
LymeDefenses, Inc. 'Canine & Family-friendly' Outdoor Body Treatment Products do not claim or guarantee to control or mitigate specific species of insects that may transmit vector-borne diseases to humans or canine companions. Always seek professional medical services if you think you or your canine companion show symptoms associated with any vector-borne illnesses. 
This is a preview of the recently viewed products by the user.
Once the user has seen at least one product this snippet will be visible.
Recently Viewed Items
You may also like...